CLOKS has been running for 15 years; it started as a youth section of the adult society that was CLOS and Maria directed both 'Saturday Night at the Movies' in 2005 and 'Annie!' in 2006. In 2007, CLOKS branched out to create their own society with their debut production 'One More Day in the Sun'; an amalgamation of songs, dances and a comedy play. Since then, CLOKS has blossomed performing Disney's 'The Jungle Book' in 2008, 'Peter Pan' in 2009, Malcom Sircom's 'Olivia' (2010), Edgy Productions' 'Archibald's War' (adapted & a second half written for CLOKS by Maria Farey, 2011), Malcom Sircom's 'Pinafore Pirates' (2012), 'Yeeha' & 'Oklahoma!' (2013), 'Fiddler on the Roof' in 2014 and Guys and Dolls in 2015, with a myriad of Christmas productions in between. We have worked with Chard Concert Brass and local writers to perform 'A Kiss Card from Walter', a First World War musical play all about our local heroes and our latest production 'The Railway Children' saw a first in The Guild Hall with a train engine emerging from the back of the stage! Sadly Covid 19 then closed us down for a while but we managed to get together in between lockdowns and produce a recording to showcase our wonderful cast. We are back now stronger than ever and looking forward to our Christmas production and next summer's Aladdin Junior. We cannot wait to welcome our audiences back and are looking forward to an exciting future.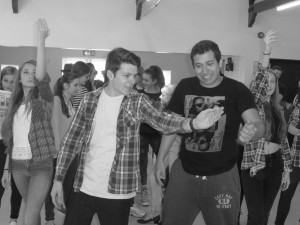 We currently rehearse on Saturday mornings at Crowshute House in Chard. Our typical year consists of:
September-December Rehearsals for our Christmas show and then a performance at the beginning of December in Combe St. Nicholas Church. There are no tickets for this event, entry is free and donations are greatly appreciated as these events are the main fundraisers for our show in June.
December CLOKS usually perform at the Ferne Animal Sanctuary Animal Blessing Service on the first Wednesday of December. See Upcoming Performances for more information.
January-June Rehearsals for our main summer show and then a performance in the last week of June at the Guildhall, Chard. Tickets, times and dates to be confirmed, or visit our Upcoming Performances page for more information.
August CLOKS put on a summer workshop. In previous years this has ranged from creating a musical in a day, to creating a musical in 3 days! Times, dates and cost to be confirmed or see our Workshops page for more information.
Patrons:
Our patrons scheme is in place because we are an entirely voluntarily run society and we rely on the kindness and support of patrons, grants and fundraisers to continue performing our shows. We have 3 stages of patron; Friendly Faces, Pendulum Pals & Big Bens. Our current list of patrons is as follows:
Mrs N. Barry, Mr. W Butt, Mr and Mrs N. Coles, Mrs J. Colvin, Mrs M. Davis, Mr and Mrs S. Dentler,
Mr J.Evans, Mr B. Farrer, Mr M. Gallaway, Mrs S. Gleadell, Mr and Mrs G. Hoare, Mr & Mrs S. Hopkins,
Mr and Mrs G. Hulstaert, Mr and Mrs R. Johnson, Mrs I. Johnston, Mr G. Markham, Ms E. Merrick-Reed
Ms M. Miller, Mr and Mrs R. Milliner, Mr and Mrs T. Moran, Mr T. Northcott (CartridgeWyse, Yeovil)
Mr & Mrs A. Prior, Mr D. Ricketts, Mr D. Rogers (Bennett & Rogers Opticians), Mrs E. Shepherd, Mrs J. Stock,
Mr C. Stoodley, Mr and Mrs V. Sweet, Mr and Mrs R. Taylor, Dr A. Tressider, Mr and Mrs P. Tucker
Mr and Mrs F. Veale, Mr and Mrs D. Wheadon, Mr and Mrs K. Wheadon, Mr and Mrs I. Whitehead,
Mr and Mrs F.T. Wright
If you are interested in becoming a patron please contact Susan Veale on susanveale@hotmail.co.uk or download the form below and send it to the address given.
Committee
Our committee meet once a month to discuss the running of the society, the upcoming shows, fundraising events and any other business any member might have. Each committee member is a passionate, committed and heavily involved associate of CLOKS. Our committee as it stands at the moment is:
Chair: Maria Farey
Treasurer: Tina Coles
Press Officer: Gloria Johnson
Marketing Officers:Susan Veale/Gloria Johnson
Publicity Officer: Jemima Farey
Child Protection Officer: Donna Parsons
Secretary: Pat Hulstaert
Other members: Caroline Knight, Jo Dentler, Liz Shepherd
Our Phone Policy
We have been experimenting with a more 'relaxed' approach to mobile phones and rather than taking them at the start of rehearsals and returning them at the end, we have let the children have them at all times. This is on the understanding that they are not glued to them whilst learning the songs. This seems to have worked so far. We are now, however, starting the dancing and whilst we still won't be taking phones away, we strongly advise against the children having them in their pockets while they are moving around. We have had a couple of incidents in the past involving broken phones and would like to make it clear that CLOKS will not be liable if a mobile or any other device is damaged or broken during a rehearsal. We have told everyone this but if you could reiterate this policy that would be very useful.