29th & 30th April 2016
The Guildhall, Chard
7.30pm
Tickets ONSALE NOW from Barrons, Chard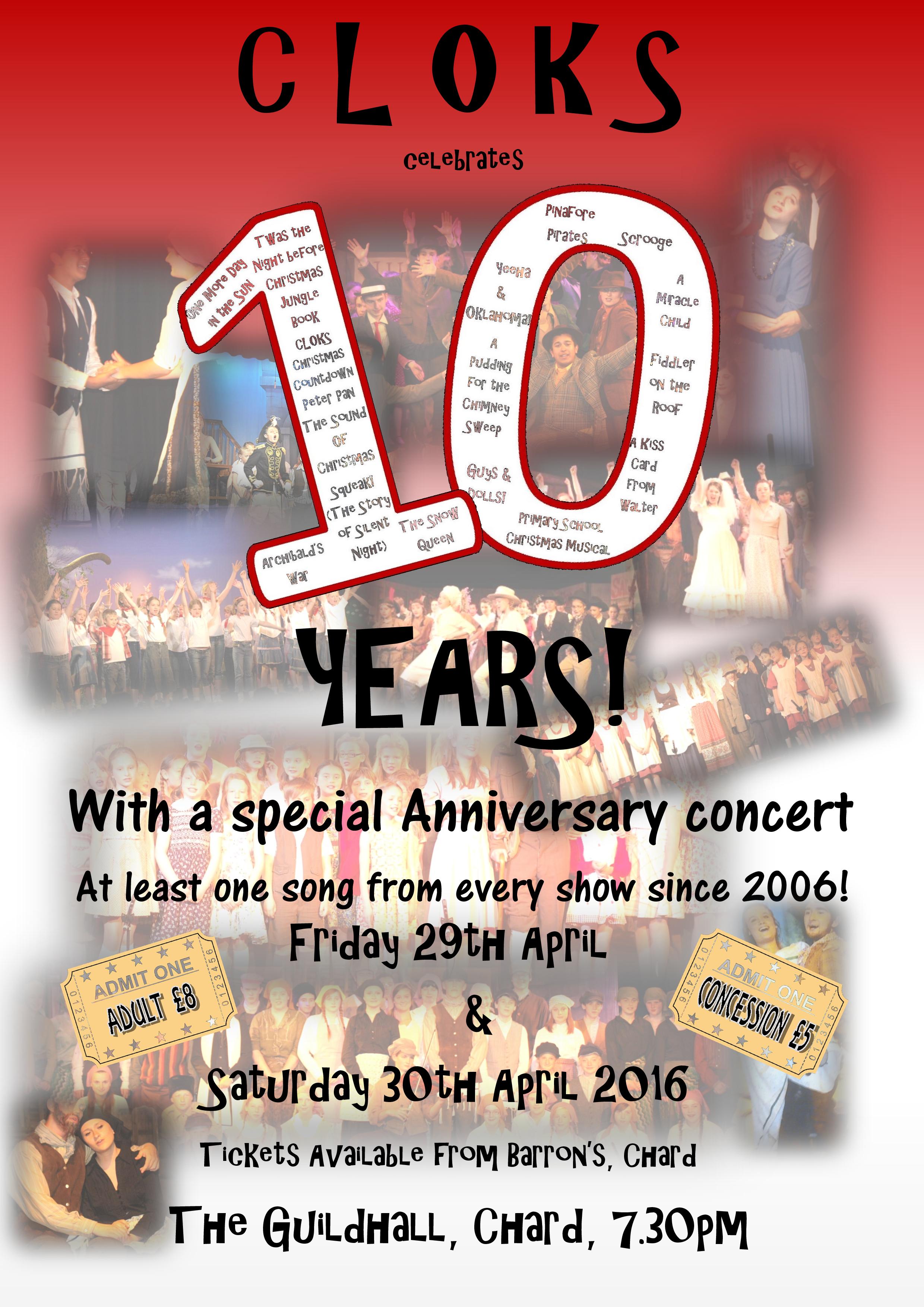 CLOKS (Chard Local Kids Society for Music and Drama) celebrates 10 years with a special anniversary concert. The concert will include at least one musical number from every main show that CLOKS has performed since 'Annie' in 2006. CLOKS is using this opportunity to reminisce some of the best moments over the past 10 years and has welcomed back some of its past members to be involved. The concert will end with a medley of songs from 'Les Misérables' and the grand finale 'Sing' by Gary Barlow and
Andrew Lloyd-Webber.
Obviously, the children are the main focus of this concert and they have all worked extremely hard to put this concert together. For our newer members it has been a challenge to learn so many new songs but for many members of the cast it has simply been a case of remembering how they did it last time!
However, there are also a whole host of adults that work together to make these shows as fabulous as they are. Huge thanks have to go to Mary Tucker, our rehearsal pianist. Mary is incredibly patient, extremely talented and has without doubt become part of the family that has developed over the years. Jonathan Farey must be thanked for his contribution as Musical Director and has been assisted in recent years by Jemima, who was a member of CLOKS from the start and has joined in for the concert. The biggest thanks of all should go to Maria Farey, without whom none of this would be possible! She puts in so many extra hours of work to choreograph song numbers, set scenes and simply work out how each member of the rapidly growing cast can all fit on the stage at once! She is the glue that holds the family together and we all love her very much.
This night will be a celebration of fun, love and happiness. An amazing bunch of children come together to provide you with an evening's entertainment you will never forget. The performances will take place on Friday 29th April and Saturday 30th April 2016 in the Guildhall, Chard, at 7.30pm. Tickets are available from Barons, Chard and are £8 for adults and £5 for concessions (children, students & over 60s). Come along to support and be part of this extremely special celebration of Musical Theatre.